Hello Friends! Welcome to the Techly360 blog. So in this article today we are going to talk about Generation of Computer and what is Full Definition of Computer Generations? and we will know all these things in this article. So stay in this article and know more in full details.
What is Computer Kya Hai?
So friends, as we and you know that we have to know about the What is Computer in this article. But what is a computer before we know about it? It is important to know about it.
So let me tell you that the Computer is an English name. and the Computer is known as a Sanganak in Hindi. A computer is an electronic machine.
With the help of a computer, the biggest things can be completed in a matter of time. Nowadays this computer is used in many places like Office, School / College, Hospital, Railway Station and many other places.
Also Read – Computer Full Form
The work that used to take hours before. Now, this computer does those same tasks in seconds. This one computer alone does the work of many people. So it is being used in modern times.
Nowadays, this copter has a very big role in the world which has become digital. Perhaps you will not know that the phone or laptop in which you are reading this article is also a computer.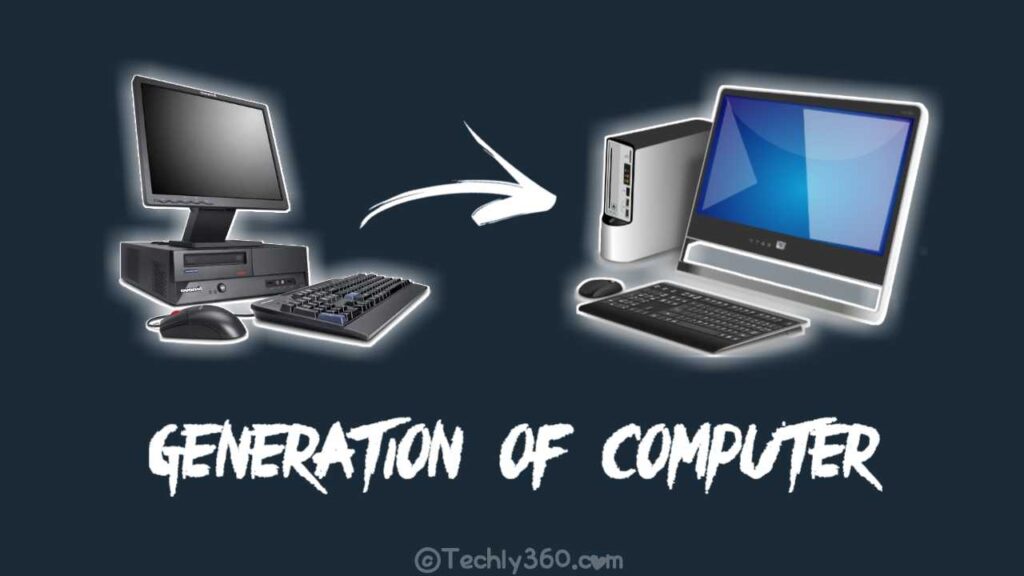 Full Definition of Computer Generations
Friends, we have now learned about this computer in detail. So now let me tell you that in this article we will learn about Computer Generations Definition. So we will talk about the generations below. All of that will be in full detail.
Explaining in detail is why it becomes more important. Because people have a complete lack of information. Which is not good for people. I believe that all the information you can get is in detail. So you will know all the information below.
Generation of Computer
And friends, let me tell you firstly that only 5 Generations of Computer have come. So what are these generations? So I want to tell you. When the Computer was first created. At that time, very different technology was used.
But when this computer was gradually upgraded and more high tech has been made using new technology. So, we know the steps of upgrading the computer under the name of the Generations of Computer. So I have explained in detail all its Generations below.
First Generation of Computer (1946-1959)
So friends, let me tell you that the world's first computer was built on 14 February 1946. And this computer was of the 1st Generation computer. Vacuum Tube Based technology was used in the computer of the first generation. That is, it was an early link in the computer.
This Vacuum Tube Based computer was initially used only for work-related to points. The generation of computers with a vacuum tube was from 1946-1959. When this computer was first used, there was a stir in the whole world. Because it was made true of strange technology.
Second Generation of Computer (1959-1965)
Now it comes to the 2nd Generation. So in this generation, the technology used in computers was changed. The first was the Vacuum Tube technology. But this time Transistor Based technology was used. And we have to believe that this computer proved to be more effective than before.
This Transistor is still being used in almost all electronic goods. And without it, any electronic device looks like an incomplete one. So the period of this Second Generation Computer was from 1959-1965. After the arrival of this computer, it started to be used more. Because now it was a little advanced than the previous one.
Third Generation of Computer (1965-1971)
So friends will now talk about the 3rd Generation of computers. So this generation is better than both earlier generations and more technology was used in it. Integrated Circuit (IC) was used in this 3rd generation. This IC i.e. Integrated Circuit is a very Advance Component.
This integrated circuit is still used on a very large scale even today. This Third Generation computer was from 1965-1971. This was a period when the world was slowly moving towards the modern era. Even at this time, people did not have much knowledge of technology that they too could become familiar with this computer.
Fourth Generation of Computer (1971-1980)
Friends, this was the period when the computer era suddenly changed. And now computers were being used in the world. VLSI microprocessor was used in this 4th Generation of computers. The full form of VLSI is Very Large Scale Integration. It was the highest tech microprocessor of the time.
Due to this, in the 70s and 80s, this computer was now being started by ordinary people. And this computer was able to do almost all the work of people for a long time. So at that time, the trend of the game gradually came to light. And along with games, many other types of software and applications were started for computers.
Fifth Generation of Computer (1980-2012)
The year 1980 came a period that shook the entire computer world. This was the time when the entire computer structure was changed. Now the ULSI microprocessor (Ultra Large Scale Integration) has replaced the old Cheap VLSI microprocessor in the computer. And the computer was more advanced than expected.
And its computer was now being used for Offices and Government work. Such as at the Railway Station and Airports. Apart from this, this computer was being used for many things.
6th, 7th, 8th Generation of computer (2012-onwards)
After the year 2012, the technology of computers started changing very quickly. Since 2012, computers of 6th, 7th, 8th Generation have come into the market. And now the laptop has replaced the computer. Let me tell you that AI (artificial intelligence) was being used in computers from the 5th Generation itself.
And in the 6th, 7th, 8th Generation you will find in the Compters market having the ability to do almost all kinds of tasks. Nowadays, almost from children to the elderly and from hospitals to shops, they are using this computer.
Generation of Computer pdf Download
By the way, we have received information about this computer generation. But there are many people who want to download pdf file of this information. Because if he downloads the pdf, then he can learn about this computer generation by reading that pdf without the internet at any time. So if you want to download the pdf then click on download below.
Computer Generations Related FAQ
How many generations of computer are there?
Till now it is only a matter of 5th generation computer. But in recent years, 6th, 7th and 8th generation computers have also been launched.
Who made 1st computer?
If we talk about who made the first computer? So behind this is the name of Charles Babbage. Charles Babbage was a British mathematician. It is said that the first computer was built between 1833 and 1871. But do not know how true this statement is.
Who is known as Mother of computer?
As we know Charles Babbage as the father of the computer. So similarly Ada Lovelace is also known by the name of the mother of the computer all over the world. Many people will not know about it.
Generation of Computer Wikipedia!
Now let me tell you that in this Wikipedia platform, this computer and its generation are explained in detail. Wikipedia is a world wide website. It has been told about almost everything in the world.
---
Conclusion – How did you like this article of Generation of Computer – Full Definition of Computer Generations. You must tell by commenting in the comment box below. is.